WriteON
Effective April 2, 2020, WriteON consists of virtual check-ins via Zoom!
Virtual check-ins begin at 9 a.m. (CDT). For more information and to register, visit this month's Doodle below. (We will reconvene after July 5th.) We will not return to SSB until the campus re-opens. Virtual check-ins permit students to discuss their writing projects at the macro level and in terms of the upcoming day...and to see other human beings who are also trying to write during COVID.
WriteON Quote
Thank you for these sessions. I wouldn't have stayed on course without them!

PhD in Special Education and now a postdoctoral Hegarty Fellow at Michigan State University

|
WriteON Description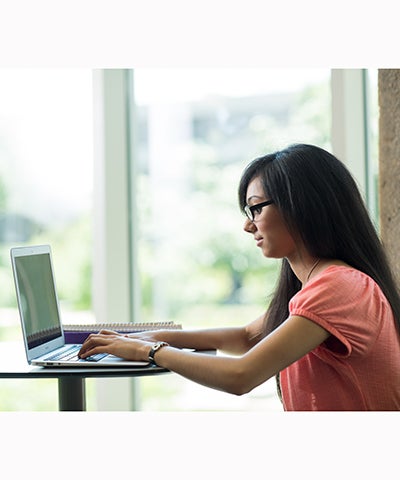 The Graduate College's "Get Your WriteON!" — or simply "WriteON" — was created in the fall of 2014 and inspired by colleagues at the Institute for Research on Race and Public Policy. While the frequency of sessions has increased, the essence remains the same: providing self-motivated graduate students with a dedicated space and time to write. (Grad alumni are also welcome!) The no-frills writing sessions are long on quietude, coffee, and camaraderie — and short on chit-chat (at least within the work space). WriteON! occurs in SSB2790. Using Doodle as a reservation system, participation is capped at twelve participants per session so that each writer may enjoy a strategically placed table (~48″ long) with access to UIC Wi-Fi and an electrical outlet. Staff and participants provide the coffee, tea, cream, and, their own mug. A small refrigerator is available to store lunches; a microwave and some food options are available on the ground floor of SSB. Note: The room can be chilly, so a sweater may be needed, regardless of the outdoor temperature.
WriteON Pop-Up Sessions
Pop-Up Sessions
When staffing permits, "pop-up" sessions as well as workshops are offered. Past workshop topics have included "CVs and Cover Letters," "How Do I Get Out of Here?" (Dr. Kollenbroich's practical primer on the thesis/dissertation process), and a discussion of practical and technological best practices and tools.
WriteON Additional Resources
Additional Resources
If you are a graduate student looking for assistance with the nuts and bolts of writing, consider enrolling in our course Principles and Practice of Writing for Graduate Students (GC512) and/or making an appointment with the UIC Writing Center.  Be sure to specify "graduate-level writing" from the pull-down menu or when speaking with a scheduler. Note that in Spring 2017 the Writing Center piloted group peer-editing workshops. If would like to see more of those, please contact the Writing Center and let them know!
In the past, including in May 2020, a few of us peer-edited manuscripts in extra sessions. Is there more student interest?
Looking for writing grants? Please see the link below.
Interested in other writing groups at UIC and elsewhere? We took our inspiration from the Institution for Research on Race and Public Policy (IRRPP) and its "WriteOut" sessions. See below.
Lastly, the Graduate College subsidizes the UIC's institutional membership with the National Center for Faculty Development and Diversity (NCFDD). See the link below.
WriteON Contact
Benn Williams
Fellowships and Awards Coordinator