Portal to Biomedical Research Careers Postbaccalaureate Research Education Program
About PBRC PREP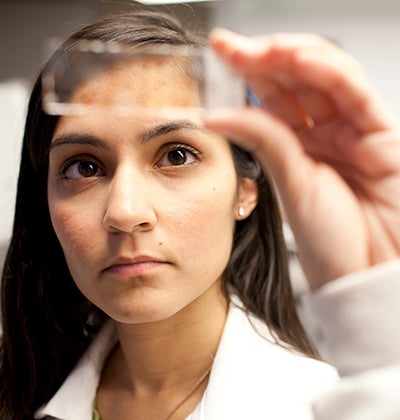 UIC PBRC PREP is a program for recent, or soon to be, STEM (science, technology, engineering, and mathematics) baccalaureate graduates who aspire to enter PhD programs and wish to pursue a research career in the biomedical sciences.
UIC PBRC PREP helps undergraduate students augment and strengthen their research skills and laboratory experience, builds on a foundation of academic skills, critical thinking, written and oral communication, and prepares the student for GRE testing. Students first engage in early June 2020 in a 8-week summer "Boot Camp" course to broaden their skills in preparation for graduate school programs, and work in a major research laboratory in the final ten months of the program. Students are financially supported through the program with a $28K salary.
Campus housing is provided during the initial month of the program. This gives the PREP Scholars time to learn more about living in Chicago and find suitable housing in the city for the remainder of the year. The "boot camp" course involves daily presentations and discussions on various topics of interest to the Scholars. Scholars review three manuscripts, each from a different faculty investigator. They then prepare three short oral presentations in consultation with each of the three laboratories by interviewing the principal investigator (PI) and research lab fellows. Thus, the Scholars learn more about the individual faculty and their lab research, and the faculty interact with the Scholars. Scholars and faculty submit a ranking of preferences, and the Program Directors then help in the assignment of a Scholar to a research laboratory for the remainder of the program.  Scholars present posters at national conference, like ABRCMS, during the year.
Program Eligibility
Program Eligibility
(1) U.S. citizens, nationals, or permanent residents; (2) Graduated with a biomedically-related baccalaureate degree from an accredited U.S. college or university with the past three years; (3) Not currently enrolled in a graduate degree program; (4) Belong to a group underrepresented in biomedical research, including those from racial or ethnic minorities, those with disabilities, and those from disadvantaged backgrounds.
Program Support
Program Support
UIC PBRC PREP is supported through a generous R25 grant from the National Institutes of Health, National Institute of General Medical Sciences, GM121212. Program Directors: Professors Karen Colley and William Walden.  Program Coordinator: Dr. Bernie Santarsiero (Email: pbrcprep@uic.edu).
Participating Faculty
Participating Faculty
So who could you potentially work for?  Here is a list of participating faculty mentors for the program.
Application
Online Application
Applications for 2020 are now OPEN!! Please fill out the ONLINE form, or download, complete, and email us the PDF Application form.
Letters of recommendation and official transcripts should be requested and sent directly to pbrcprep@uic.edu, or mailed to Dean Karen Colley, 628 University Hall (M/C 192), University of Illinois at Chicago, 601 South Morgan Street, Chicago, IL 60607-7106.
Try to get your applications in by March 15, 2020!!
Download Application
Download the PDF Application
Please fill it out and email to pbrcprep@uic.edu
Flyer
Flyer
UIC PBRC PREP is recruiting the best and brightest students that have a baccalaureate degree to the PREP. Please share this flyer with fellow students, faculty, and staff at your institution.
Current PREP Scholars
2019 PREP Scholars
Omar Niagne graduated from the University of Alaska, Fairbanks, with a B.S. degree in Cell and Molecular Biology in May 2019.  His past research experiences include creating a genetic tool to diagnose Bitter Crab Disease in Tanner Crabs and in situ hybridization probes to help track certain activities in anoxia-induced turtles.  He is presently working in Dr. Nancy Freitag's laboratory (Microbiology and Immunology, College of Medicine) on "Uncovering the Composition of a Bacterial Peptide Pheromone in Listeria monocytogenes that Facilitates its Escape from the Host's Vacuole."
Destiny Ogbu graduated from Georgia State University with a B.S. degree in Psychology in May 2019.  Her past research project was a cross-sectional analysis using statistics to compare distinct brain regions between pre-diagnosed men and women with Huntington's Disease.  She is currently working with Dr. Jun Sun (Gastroenterology and Hepatology, College of Medicine).
Reggie Woods graduated from the Ohio State University with a B.S. degree in Microbiology in May 2019.  His past research project was on the detection of Parechovirus and Enterovirus among infants evaluated for late-onset Sepsis in the Neonatal Intensive Care Unit of Nationwide Children's Hospital.  He is currently working with Dr. Michael Federle (Pharmaceutical Sciences, and Center for Biomedical Sciences, College of Pharmacy).
Garrett Williams graduated from the University of Chicago with a B.A. degree in Philosophy and Neuroscience in June 2019.  His past research experiences include a study of depersonalization and sensorimotor processing at the Institute of Cognitive Neuroscience at University College, London.  He is currently working with Dr. Pauline Maki (Psychiatry, Psychology, and Obstetrics and Gynecology, College of Medicine).
Past PREP Scholars
2018 PREP Scholars
Briana Banks graduated with her BS Integrative Biology and a minor in Chemistry from the University of Illinois, Urbana Champaign in May 2018.  She was working in the laboratory of Dr. Alan Diamond (Department of Pathology, College of Medicine) on health disparities in prostate cancer and the role of selenium and SELENOF, a selenium-containing protein, in enhanced prostate cancer susceptibility in African American males: Determining the Morphologies of SELENOF and SELENOF-Deficient Cells.  She is currently a graduate student at the University of Chicago in the Cancer Biology Program.
KiAundra Kilpatrick graduated with her BS in Biology from Florida A&M University in May 2018. She was working for Dr. Joanna Burdette in the Department of Medicinal Chemistry and Pharmacognosy in the College of Pharmacy. Her research is focused on norepinephrine signaling in the metastasis of ovarian cancer: The Role of Norepinpherine in Fallopian Tube Epithelial Cell Recruitment and Primary Metastasis of Ovarian Cancer.  She is currently a lab assistant at UIC and applying for entry to MD/PhD programs.
Paula Bazzino graduated with her BS Psychology (cognitive and behavioral neuroscience track) from the University of Florida in May 2018.  She was working in the laboratory of Dr. Mitchell Roitman (Department of Psychology, College of Liberal Arts and Sciences) on the neural basis of normal motivated behavior in feeding and drinking: Induction of Thirst Through Multiple Mechanisms Recruits the Mesolimbic Signaling to Water Cues. She is currently continuing her graduate students in the laboratory of Dr. Mitchell Roitman.
Tyler Brown graduated with his BS in Biology and a minor in Neuroscience from the University of North Carolina-Wilmington in December 2017.  He was working in the laboratory of Dr. Alexander Mankin (Department of Medicinal Chemistry and Pharmacognosy, College of Pharmacy) on the antibiotic mechanism of proline rich antimicrobial peptides: Optimizing the Antimicrobial Peptide Apidaecin By in vivo Selection. He is currently a graduate student in Molecular Biology at Yale University.
Contacts
Bernard Santarsiero
PBRC-PREP Program Coordinator