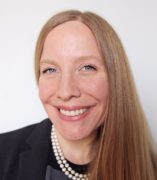 Lindsay Marshall
Writing Specialist / Academic Advisor
WriteOn (co-coordinator)
Graduate College
Pronouns: she/her/hers
Contact
Address:
601 South Morgan St. Chicago, IL 60607
Office Phone:
Email:
About
The central goal of Lindsay's professional career is supporting students in their writing and in their day-to-day lives. Lindsay has taught numerous courses in UIC's Department of English (film, composition, rhetoric) and served as Assistant Director in the Writing Center for seven years. In UIC's Graduate College, Lindsay has worked with the Fellowships and Awards Coordinator to help graduate students apply for external fellowships (Ford, Fulbright, Mellon-IDRF) as well as a range of internal fellowships and awards.
As the Graduate College's Writing Specialist and Academic Advisor, Lindsay assists students with a range of scholarly and career-focused writing—from grant applications to cover letters and CVs. She also helps students to locate and navigate financial, mental health, medical, and legal resources at UIC and in the broader community.
Teaching Areas
Basic/Developmental Writing; Writing Center Theory and Pedagogy; Composition Studies; Film Studies; Film Theory; Film and Culture; 18th and 19th Century British Literature.
Research Currently in Progress
Discourses of addiction, rehabilitation, and the politics of overdose and harm reduction; Rhetoric of Science; Rhetoric of Health and Medicine; Visual Rhetoric; harm reduction theory and practice.