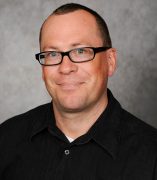 Benn Williams
Fellowships and Awards Coordinator
Institutional advisor/liaison for Boren, CLS, DAAD, Fulbright, Fulbright-Hays, and NSF GRFP; Coordinator of GC 512, GC513, and WriteON!
Graduate College
Pronouns: He/Him
Contact
Address:
601 South Morgan St. Chicago, IL 60607
Office Phone:
Email:
About
Trained as an historian, Benn Williams embodies the "alt-ac" professional. After teaching at local colleges, he moved into administration starting with a small interdisciplinary graduate program (neuroscience). Currently, he oversees most of the Graduate College's internal fellowships and awards; serves as the institutional advisor and/or liaison for a number of external funding opportunities (Boren, CLS, DAAD, Fulbright, NSF GRFP); co-created and coordinates three writing initiatives (GC 512, GC513, and WriteON!); liaises with the Office of Financial Aid and UIC Advancement; founded and ran the Digital Humanities Working Group;  etc.
Selected Grants
NSF, Graduate Research Fellowship Program (GRFP), Award #1842398, PI
Selected Publications
As author and editor: Aukje Kluge and Benn E. Williams (eds.), Re-examining the Holocaust through Literature (Newcastle upon Tyne: Cambridge Scholars Publishing 2009).
As editor of the William L. Potter Publications series for the Center for French Colonial Studies: Mark Walczynski, Inquietus: LaSalle in the Illinois Country (2019).
As translator: Laurent Joly, "French Bureaucrats and Anti-Jewish Persecution: The 'Jewish Service' of the Paris Police Prefecture, 1940-1944," Holocaust and Genocide Studies vol. 33, no. 1 (Spring 2019): pp. 39-59, https://doi.org/10.1093/hgs/dcz013
As co-translator: Laurent Joly, "The Parisian Police and the Holocaust: Control, Round-ups, Hunt, 1940-4," Journal of Contemporary History (published online May 2019 ahead of print) https://doi.org/10.1177/0022009419839774