Graduate Mentoring Awards
The 2022-2023 competition is open.
The Graduate College is pleased to invite nominations for the annual Graduate Mentoring Awards.
Graduate Mentoring Awards are designed to encourage and reward excellence and innovation in all aspects of graduate mentoring. Each year the Graduate College will provide up to four awards of $2,000 each per year. Recipients will be announced May 3.
Recipients of the award for the 2021-2022 academic year Heading link
Daniel Groves, Professor, Mathematics, Statistics, and Computer Science (Engineering, Mathematics, and Physical Sciences division)
Nathan Phillips, Assistant Professor, Curriculum and Instruction (Behavioral and Social Sciences division)
eligibility

Nominees must be full members of the graduate faculty at UIC, actively engaged in the direction of graduate students in masters or doctoral programs. Nominees must have been on the faculty at UIC for at least four academic years. Winners of the Graduate Mentoring Award will not be eligible for the award again for five academic years.

Criteria

Given the immense academic diversity on campus, there will be no single set of criteria appropriate to all nominees. Nominators are encouraged to think creatively about the many and diverse ways in which faculty can contribute to the development and support of graduate students. Examples of the kinds of contributions that might be rewarded with a Graduate Mentoring Award include, but are not limited to:

Promoting intellectual growth through graduate teaching and thesis direction.
Fostering the development of graduate students' communication skills in written and oral presentations.
Effective direction of dissertations, including timely evaluation, guidance and feedback on dissertations.
Being accessible to students for discussion of intellectual or professional questions and concerns, communicating with them effectively and respectfully, and encouraging such interactions.
Educating students in the culture of the appropriate disciplines, helping them to network with other professionals.
Providing career counseling and placement assistance including possibilities outside of the academy.
Actively helping students to progress to degree in a timely fashion and to develop the skills necessary to professional success.
Excellence and innovation in teaching, including the development of interdisciplinary or non-traditional initiatives.
Promoting a climate of respect and collegiality that enhance the graduate experience and increase chances of success.

Nomination Procedures

Each department may nominate one candidate for a mentoring award each year. Departments are strongly encouraged to devise a selection procedure that includes graduate students and alumni. Nominations are submitted to the Graduate College via secure Box link. The documents should be submitted as a single PDF file in the following order:

The nominee's CV
A statement (not more than 1,200 words) written by the nominee outlining his or her approach to Graduate mentoring
A list of all graduate courses taught by the nominee in the past four years
A list of all graduate students supervised by the nominee in the past four years and the status of their projects
A list of the nominee's advisees who have graduated in the past four years and information about their current employment
A description of other activities though which the nominee has contributed to graduate education at UIC
A letter of support from the department head or DGS
A letter of support from a current graduate student
A letter of support from a recent alumna or alumnus (of the past four years)
A description of the process by which the nominee was selected

We recommend that departments begin the selection process as soon as possible to solicit opinions from graduate students, alumni, and faculty and provide adequate time to prepare the application. Letter writers should be lined up by February 1st.

Selection Criteria

Nomination packets will be reviewed by the Graduate College Awards Committee.

Deadlines and Announcement of Awards

Mentoring Awards Nomination PDF file upload due to the Graduate College: March 1st
Announcement of Recipients: mid-April

2018-22

Recipients for the 2020-2021 academic year:

Ashley Hughes, Assistant Professor / Research Health Scientist, Health Informatics / Edward Hines VA Medical Center (Life Sciences)
Anna Kornbluh, Professor, English (Arts & Humanities)
P. Zitlali Morales, Associate Professor, Curriculum & Instruction (Behavioral and Social Sciences)
Jie Yang, Professor, Mathematics, Statistics, and Computer Science (Engineering, Mathematics, and Physical Sciences)

Recipients for the 2019-2020 academic year:

Heidi Schlipphacke, Associate Professor, Department of Germanic Studies (Arts & Humanities)
Michelle Parker-Katz, Clinical Professor, Department of Special Education (Behavioral & Social Sciences)
Lev Reyzin, Department of Mathematics, Statistics, and Computer Science (Engineering, Mathematics, & Physical Sciences)
Tanvi Bhatt, Associate Professor, Department of Physical Therapy, (Life Sciences)

Recipients for the 2018-2019 academic year:

Jennifer Cabrelli, Assistant Professor, Hispanic and Italian Studies
Richard Gemeinhart, Research Integrity Officer and Professor Biopharmaceutical Sciences
Chris Kanich, Assistant Professor, Computer Science
Rebecca Woodard, Assistant Professor, Curriculum and Instruction

Submissions

Save the forms/documents listed above as one single PDF per nominee.
The PDF files should be saved using the following naming convention:

GMA_YearofAward_DepartmentNameAbbreviation_NomineeLastNameFirstInitial.pdf 
Example – AY 2022-2023 nominee from History named Charlotte Baudelaire:
GMA_2023_Hist_BaudelaireC.pdf

Do not have spaces in the pdf name.  There is a 2GB size limit on each individual file.
When you are ready to upload PDF file to the Graduate College, use the correct Box email address below.  Unsure of your division? See the list: https://grad.uic.edu/faculty-staff-resources/academic-divisions/
The file is secure and only the owners of the Box account (i.e. Graduate College staff) have access to the contents of the file.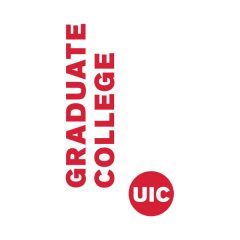 DEADLINE: 4PM, March 1st, 2023