Graduate Pathways to Success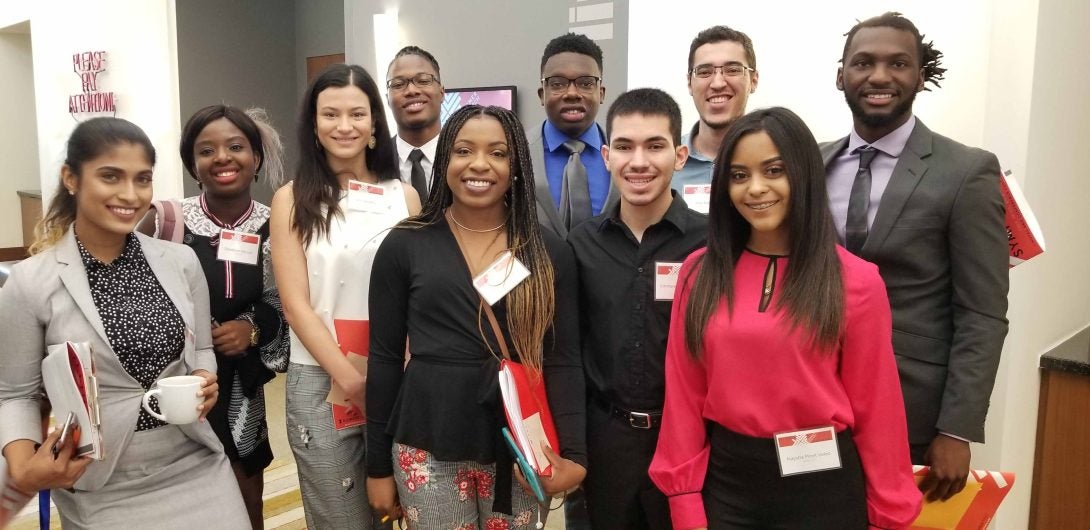 The Graduate College is expanding its current efforts to prepare and recruit more underrepresented minority college students to graduate study at UIC.  Specifically, we have developed the Graduate Pathways to Success Program to nurture UIC undergraduates with the potential to enter graduate programs.
The Graduate Pathways to Success Program strengthens and builds upon institutional relationships both internally and externally to also attract more underrepresented students to graduate study at UIC. Internally, the program will identify faculty advisors, within UIC, willing to nominate such students to facilitate recruitment and a more successful graduate school experience. Externally, the program will collaborate with other institutions to establish a mutually beneficial relationship to prepare, recruit and enroll talented students. We have good placement records with our Sumer Research Opportunities Program (SROP) and, previously, with our Ronald E. McNair Program.
In 2009, the first group of 10 students began the Graduate Pathways to Success Program with a faculty member who supervised each student's research project. These students completed a series of introductory workshops on research-oriented and graduate-school-oriented topics and worked on a research project of their choosing under the supervision of a UIC faculty member.
Participation in the program involves the following:
Students meet with the program a minimum of two meetings per month.  Students will attend a one on one monthly meeting with the program director to update progress and discuss any concerns about campus life.  Next, there will be a monthly group workshop (either in person or Zoom) that focuses on preparing for the Graduate school application process.  Workshops will cover areas such as the Curriculum Vitae, Personal Statements, Application Content and Deadlines, Developing Graduate Level Study Habits, Applying for Funding, Selecting the Right Graduate Program, Seeking Funding, Graduate Student Life as well as other topics.
The development of the Graduate Application Portfolio.  A bound and electronic document of all of the student's scholastic and professional activities on and off campus. The Graduate Application Portfolio  (GAP)  will be developed throughout the year and a copy of that will be submitted upon the student's final semester of their graduating school year.
Students must maintain full-time status, a GPA minimum of 2.75, and remain in good academic standing with the University.
All GPS participants must do an oral or poster presentation at any UIC or off-campus symposium within the school year.
All GPS Students are required to submit a 15-20 page research paper at the conclusion of the school year, signed and approved by their UIC faculty mentor.
Students will receive a Research Award of $1,000 per semester providing they successfully attend all required sessions and submit all required material.  This award could affect the financial aid packages of UIC students who have reached their Maximum financial aid allotted.  There will only be up to ten GPS participants each scholastic year.
Application Requirements
Completed Application
Two letters of recommendation
The student's most recent UIC transcript
A confirmed UIC faculty mentor to supervise the research project
All materials should be converted to PDF format and e-mailed to the Program Director
Applications should be submitted by September 14, 2022
For the application and more information please contact Allen Bryson at the information posted below
Allen Bryson
Director of Pre-Graduate Programs