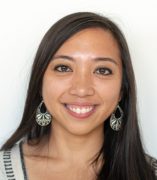 Hialy Gutierrez
PIF Fellow
Pronouns: She/Her/Hers
About
Hialy Gutierrez is a second-year PhD student in the Department of Criminology, Law and Justice and Pipeline to an Inclusive Faculty (PIF) fellow. Her scholarly interests include: abolitionist and liberatory education; solidarity economics; narrative and metaphor in the law; sociology of deviance; critical consciousness and transformative praxis. More specifically, she works to interrogate and expand upon constructs of violence as a structural (versus individual) phenomena, and seeks to accordingly reimagine and build systems of accountability grounded in community agency/care and transformative justice frameworks.
Prior to her PhD studies, Hialy was a public health researcher. Most recently, she served as the Director of Research and Evaluation at Cure Violence, evaluating desistance-based, community-focused public health methods to violence reduction. Prior to Cure Violence, she served as a project manager for Ibis Reproductive Health, conducting and managing clinical and social science research aimed at improving women's health and reproductive autonomy. Hialy has also worked as a consultant for the World Health Organization's Global Burden of Disease project, Global Influenza Programme, and the Department of Nutrition for Health and Development. Hialy believes that the relationship between the fields of public health and criminology naturally creates opportunities for critical discourse along theoretical, philosophical, and practical inquiries, which can not only generate knowledge for both academies, but can also lead to transformative justice praxes that leverage the virtues of both fields to improve social conditions more effectively, ethically, and sustainably.
Hialy also holds a BS in Engineering from Stanford University and a Master of Public Health degree with a focus on population and family health in crisis/complex settings from Columbia University. She is also the Founder of JUSTice Cream, a mutual aid project that co-creates ice cream flavors with grassroots organizations to raise funds for social movements.