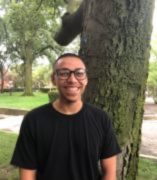 Fructoso Basaldua
PIF Fellow
About
Fructoso Basaldua is a 3rd year PhD student in the University of Illinois at Chicago (UIC) department of Sociology. Fructoso is broadly interested in studying racial inequalities. He is currently studying the intersections and connections between the privatization of public higher education, student loan debt and racial wealth inequality. Fructoso is also interested in studying the construction and impact of legal-status restrictions to public assistance in the U.S.
In the past Fructoso has worked for the UIC Institute for Research on Race and Public Policy (IRRPP) where he worked on the IRRPP report Chicago's Racial Wealth Gap: Legacies of the Past, Challenges in the Present, Uncertain Futures. Fructoso is currently working on another project examining how different racial groups are impacted by the Covid-19 pandemic in different neighborhoods in Chicago – the Social Autopsy of Covid-19 Racial Disparities Study.
Fructoso earned his bachelor's in sociology at Boise State University, and his Master's in sociology at UIC. In his spare time Fructoso enjoys reading books, listening to podcasts, watching sports, playing with son Xavi, and spending time with wife Elizabeth. Fructoso is a first-generation college student.